October 15, 1999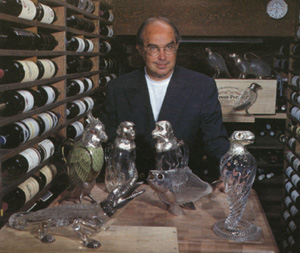 Dean of Decanters

---
Wine collector Richard Kent reveals his crush on claret jugs
---
BY PETER D. MELTZER
Richard Kent owns possibly the largest collection of claret jugs in the world. Over the past decade, he has assembled an exquisite array of nearly 100 silver-and-glass vessels fashioned between 1840 and 1918 by such celebrated designers as Tiffany, Faberge and Christofle.

But unlike most precious private collections, which are restricted to the owner's family and friends, Kent's collection is open to public viewing at www.claretjugs.com. His Web site functions as a fully illustrated and thoroughly documented virtual museum. Yet admittance is free, with no registration required. Nothing is even offered for sale.

The name "claret jug" was coined in Victorian England, where claret (red Bordeaux) and wine were virtually synonymous. The term applied to just about any decorative vessel used for pouring wine. And, Kent says, there is no functional difference between a claret jug and a decanter. But it wasn't an affinity for red Bordeaux that attracted Kent, 54, the president and CEO of a Chicago-based holding company, to claret jugs. His 6,000-bottle wine collection, amassed over the past 25 years, consists of 75 percent California wines (primarily premium Cabernet) and 25 percent French (mainly classified growths).

"I came across claret jugs by chance," he admits. "My curiosity evolved out of an interest in Baccarat and Lalique glassware. It was in a London antique store that I spotted my first specimen. Later I uncovered some more in New York, and I was immediately smitten." Kent initially purchased two or three jugs, but at the time had no intention of amassing a major collection.


Above, clockwise from top left: A Faberge silver and cut glass decanter (circa 1880); an Edwardian claret jug of silver gilt and crystal by William & George Sissons (1881); a Victorian silver-mounted cut glass claret jug by Rawlings & Summers (1841); a silver mounted crystal claret jug by George Farnham for Tiffany & Co. (1904). Below: This rare magnum-sized claret jug, made by William & George Sissons in 1883, features cameolike engraving.
Above Left: This French silver-mounted glass claret jug (circa 1890) is signed "Daum, Nancy." Above Right: A Victorian silver-mounted cameo glass claret jug (1884) by John Goffe & Son of Birmingham, England.
A claret jug's intrinsic value lies in the complexity and scarcity of the design. Although elaborate containers for pouring wine can be traced to ancient Egyptian times, Kent explains that not until the early 19th century was glass manufacturing perfected in Europe, allowing wines to be preserved in uniform bottles. "Silversmiths and glassblowers combined their skills, and with the evolution of new techniques — particularly molded glass — produced an object that was not complete until the two crafts were combined," he says.

Silver-mounted claret jugs began to appear on the London market in the 1830s. During the latter half of the 19th century, the popularity of the art form spread from England to France to Russia and ultimately America, engaging most of the era's prominent silversmiths. "The best part of collecting claret jugs is that there is no end to the style and form they may appear in," says Kent. "Some are crafted out of solid silver; others are shaped out of clear or colored glass. Decorative flourishes may include vine leaves and grape motifs. Towards the end of the 1800s, the trend for geometric patterns gave way to a fashion for intricately woven animal designs. Yet by the advent of the First World War, the vogue for claret jugs virtually disappeared."

Kent prides himself on taking up the collecting mantle. "Originally, I bought in a vacuum," he says, "but as I learned more about the field, I disposed of my early purchases in favor of museum-quality pieces." Kent buys extensively at auction, where claret jugs are often included in fine silver sales, favoring glass and solid silver as opposed to silver plate. "Just about any antique claret jug is going to be worth collecting. Even the ones that don't look unique are unique. They have a built-in scarcity because of their inherent fragility and breakage factor."

Kent enlisted the advice of Francis Raeymaekers, a world-renowned authority on claret jugs, who has since served as the curator of his collection. "I couldn't have put the collection on the Web without him," Kent says.

Prices for simple antique claret jugs can start from $200 to $300. But once you set your sights on solid-silver-mounted examples, prices jump to $1,000 to $3,000. Adds Kent, "In the museum-quality range, a fine jug may run upwards of $10,000. I was once offered a silver-mounted monkey-shaped jug made by the famed Russian designer Faberge for £100,000 [about $162,000]," he says. "The price was more a function of the current fad for Faberge than the innate value of the object — much like paying a fortune for a trendy wine on account of the label." Kent declined the offer.

According to Christopher Hartop, director of Christie's specialist departments, a magnificent silver-gilt-mounted cut glass claret jug made in 1895 by William Leuchars sold in March at Christie's London for about $28,300. Kent happens to have been the buyer. He also acquired an outstanding jewel-like jug made by the American firm Gorham for the 1893 Colombian Exhibition in Chicago. "With its finely enameled panels, it is far too delicate to actually be employed to decant wine," he says.

Kent acknowledges that choice claret jugs have certain impracticalities. "I feel like a caretaker for my collection, which one day may end up in a museum. That's why I won't use them. Eventually I'd break one, and if I did, I'd never forgive myself."


Starting Your Own Claret Jug Collection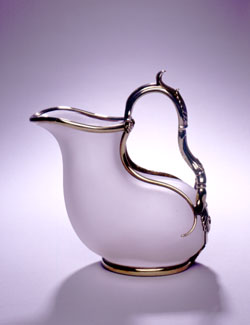 This WIlliam IV Silver gilt and frosted glass jug was made by the London firm of Storr & Mortimer in 1836. The "Askos" design, derived from Greco-Roman pottery vessels, was popular from the 1830s to the 1850s.

Claret jug collecting may be a rarefied field, but it's a fairly easy one to join. When Kent bids for lots at auction, he says there's always steady competition. He has purchased two small collections outright, but he normally buys through select dealers or established auction houses.

"Claret jugs appeal to a broad variety of collectors — silver aficionados, devotees of fine glass and, of course, wine lovers. Some objects have a particular appeal to followers of individual designers or specific conformations," he points out.

But by adhering to certain rules, you'll find that mastering the ropes is quite simple. "Let your eye be the judge, but be sure that your wallet matches your passion," says Kent. "Personally, I favor quality over quantity. It's a lot like starting a wine collection. There is no rule that says you have to include every example from all the major wine-producing regions."

Although Kent's specialty is solid-silver-mounted claret jugs, he says there's no reason why you shouldn't pursue less-expensive silver-plate types. (Excellent examples may be found for under $500.) "The least expensive in my entire collection is a porcelain jug, which I greatly admire," he says. "Develop a focus — be it a specific time frame, style or shape."

Claret jugs do not constitute a big enough market to attract fakes, but Kent warns potential buyers to beware of contemporary restorations, which can severely reduce the value of a piece and may not be immediately apparent to the neophyte. For example, some animal claret jugs retain their original silver mounts but contain latter-day replacement glass.

For more information, visit Kent's Web site, at www.claretjugs.com. It is equipped with an e-mail feature for users to post questions or send in photographs for explication.