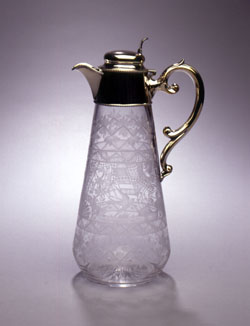 Jug #: 614 Origin: England
Date: 1899
Artist/Maker: William & George Sissons
Type/Style: Engraved

A victorian silver mounted Claret Jug by William & George Sissons, Sheffield, 1899. Although the silver neck mount is plain, the rarity in this jug lies in the glass. The esthetic decoration was inspired from Japanese art 1870-1900. The asymmetrical designs, copper wheel engraved, incorporate nature and flora as well as geometrical designs. This jug was exhibited at the Barbican Art Gallery Museum in London and then at the Setagaya Art Museum in Tokyo as part of the Japanese and British Exhibition. Very few esthetic decorated claret jugs seem to have survived. Ht: 10 3/4".