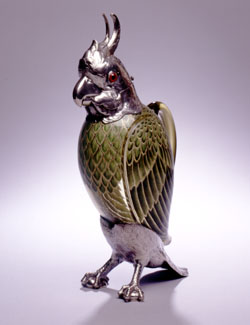 Jug #: 824 Origin: England
Date:1882
Artist/Maker:Alexander Crichton
Type/Style: Animals

Victorian silver mounted Claret Jug in the form of a cockatoo by Alexander Crichton, London, 1882. Green glass cockatoo Claret Jug with cast feet, tail feathers, neck and hinged lid with applied glass bootbutton eyes, gilt interior, the olive-green glass body enameled with shaded green feathers enriched with gilding. Ht: 13 1/4".