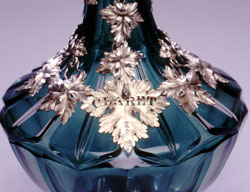 Jug #: 861a Origin: England
Date:1844
Artist/Maker:Reily & Storer
Type/Artist:Colored

Emerald green and silver mounted decanter with detachable "Claret" label by Reily & Storer, London, 1844. The large detachable vine leaf centered on the shoulder below the spout is pierced with the word "Claret" and as a separate piece is fully hallmarked. One suspects that the jug was originally supplied with a variety of interchangeable labels such as "Hock", "Madeira", "Port" and "Burgundy". Ht. 12".