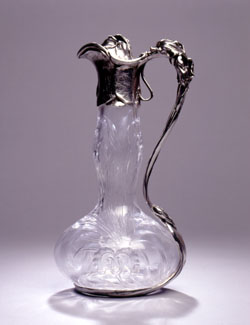 Jug #: 868 Origin: America
Date:1900
Artist/Maker:Durgin/Hawkes
Type/Style:Art Nouveau

An American silver mounted Claret Jug. William B. Durgin Co., Concord, N.H. and T.G. Hawkes & Co., Corning, N.Y., Circa 1900. Illustrated in "Silver in America 1840-1940 - A Century of Splendor" by Charles L. Venable. Published by the Dallas Museum of Art, Chapter 9, Figure 9.2. Ht. 12 1/2".