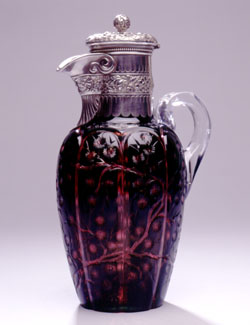 Jug #: 891 Origin: America
Date:1888
Artist/Maker: Gorham
Type/Style:Cut Glass/Colored

An American silver mounted cut-cranberry glass Claret Jug, Gorham Mfg. Co., Providence, RI. 1888. The amphora-shaped body panelled and cut with branches of Prunus, the silver neck chased with a collar of flowers, hinged cover chased with floral garland on matted ground, spherical flower-cluster finial, marked on neck. Ht: 10 3/8".