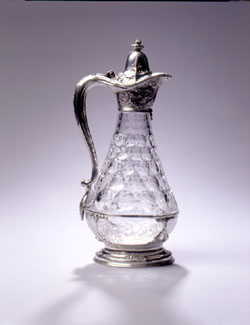 Jug #: 900 Origin: America
Date: 1893
Artist/Maker: Tiffany
Type/Style: Exhibition

Silver mounted Claret Jug by Tiffany for the Chicago Columbian Exhibition, America, 1893. The silver mounts, scroll handle and circular pedestal foot are chased with foliate and geometric motifs. A silver waist band encompasses the "fish eye" cut glass, each lozenge further engraved with bunches of grapes. Ht. 12-3/4".