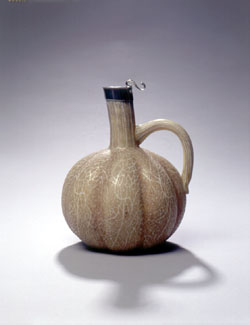 Jug #: 913 Origin: England
Date: 1888
Artist/Maker: Grinsell/Webb
Type/Style: Novelty

A novelty silver mounted cameo glass Claret Jug by John Grinsell & Sons silversmiths and Thomas Webb & Son's Limited glassmakers, Birmingham, 1888. The jug is realistically shaped in the form of a canteloupe melon and bears the Registration No. 6399 beneath the thumb piece. Ht. 7".