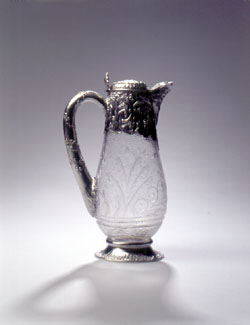 Jug #: 914 Origin: France
Date: 1895
Artist/Maker:
Type/Style: Art Nouveau

An Art Nouveau silver mounted Claret Jug, maker's mark A&L in a lozenge, Paris, 1900. The silver mount, loop handle and circular pedestal foot are embossed with trailing vines of flowers on a hammered and chased background. The glass body is finely engraved with floral sprays against a mottled back drop, echoing the hand wrought work of the silver mounts. Ht. 10-3/4".