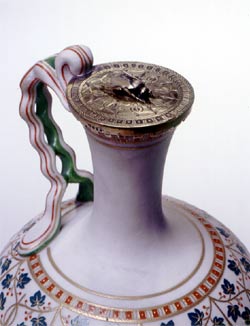 Jug #: 918a Origin: England
Date: 1854
Artist/Maker: Thomas & Frederick Francis
Type/Style: Cameo/Ceramic

A Copeland silver-gilt mounted enamelled parian claret jug by Thomas & Frederick Francis, London, 1854. The globular form has a waisted neck and bifurcated handle, painted with vine and geometric borders in orange, two tones of green and gilt, the hinged cover engraved with conforming borders around a realistically designed fly as a finial. Ht. 9.1".