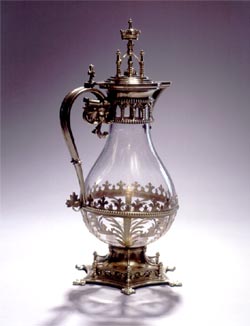 Jug #: 927 Origin: England
Date: 1894
Artist/Maker: Edward Dimes
Type/Style: Gothic

A Victorian Gothic Revival, silver gilt mounted Claret Jug by Edward Dimes, London 1894. Inscribed on the foot: "Deo Gracias 1869-1894". Standing on a raised hexagonal pedestal foot with cast vine leaf terminals at each point, a pierced band of scrolling foliage. The plain glass pear-shaped body is encased to the waist with cut out acanthus leaf strapwork that join the foot to a beaded girdle with a band of stylized acanthus and foliate fret-work. The inverted "S" scroll handle with vine and acanthus terminals join the girdle to the neck mount forming a gallery of beaded gothic arches. The plain stepped domed lid is mounted with four Gothic spires that support a taller central spire with a cast vine leaf crown finial. Ht. 12".