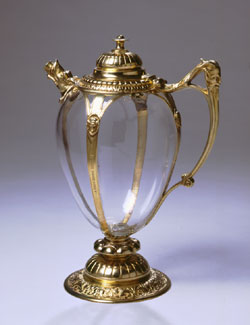 Jug #: 930 Origin: England
Date: 1875
Artist/Maker: MC & Co.
Type/Style: Novelty

A Victorian silver gilt mounted glass claret jug, maker's mark MC & Co, Edinburgh, 1876. The ovoid plain glass body enclosed by four mask applied straps above a knopped lobed foliate scroll chased spreading foot, similar lobed domed cover, satyr mask angular handle and hell hound mask spout. Ht. 9-1/2".