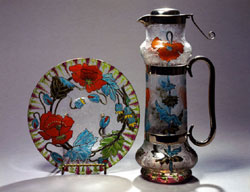 Jug #: 972a Origin: England
Date: 1898
Artist/Maker: C. H. Thompson
Type/Style: Art Nouveau

A rare silver mounted "verre sur verre" glass claret jug and stand by Health and Middleton, London 1898. The glass is by Charles Herbert Thompson, who pioneered this type of enamelled glass in about 1895. Both the claret jug and the stand are signed C.H. Thompson.