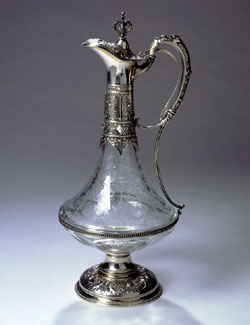 Jug #: 974 Origin: Sweden
Date: 1878
Artist/Maker: Lars Larson & Co.
Type/Style: Cut Glass

A Swedish silver-mounted glass claret jug by Lars Larson & Co., Stockholm, 1878. Attenuated glass body etched and cut with formal leafage and arabesque, applied silver spreading foot, color and domed cover embossed with masks, strapwork and bosses, openwork finial, scroll handle with cover opening mechanism. Ht. 13-3/4".